Post may contain a review, sponsored or otherwise. Also, may contain my affiliate links that help me pay for this site. Make sure you  sign up for my mail list so that you can be in the "know"
Digital Science from Visual Learning Systems Review

Science is not something that comes easy in our home. Though we like it, we just do not
love
it.  
Digital Science Online Secondary Edition (Grade 6-12)
 from
Visual Learning Systems
is a comprehensive online Science curriculum that I received to review. . Because it includes an incredible amount of information, we do not need to use anything else. Makes it easier on us to teach Science, and for my boys to learn it.
If you are needing a program for the younger children in your home, Digital Science Online Elementary Edition (Grades K-5) would be perfect! So essentially, Visual Learning Systems is a multi-level comprehensive homeschooling Science program, or you can use it to supplement what you are already doing. There is also a DVD program should that be the path you want to take.
I decided to use Digital Science Online Secondary Edition with Jonah. He is my 12 year old and if I had to put him in a grade, it would be 6th to 7th grade. He out of my two boys I teach now, is the easiest to teach Science too. He likes it. He also has some issues with retaining information, so being able to watch the videos over and over helps him learn the information, and retain it for future use.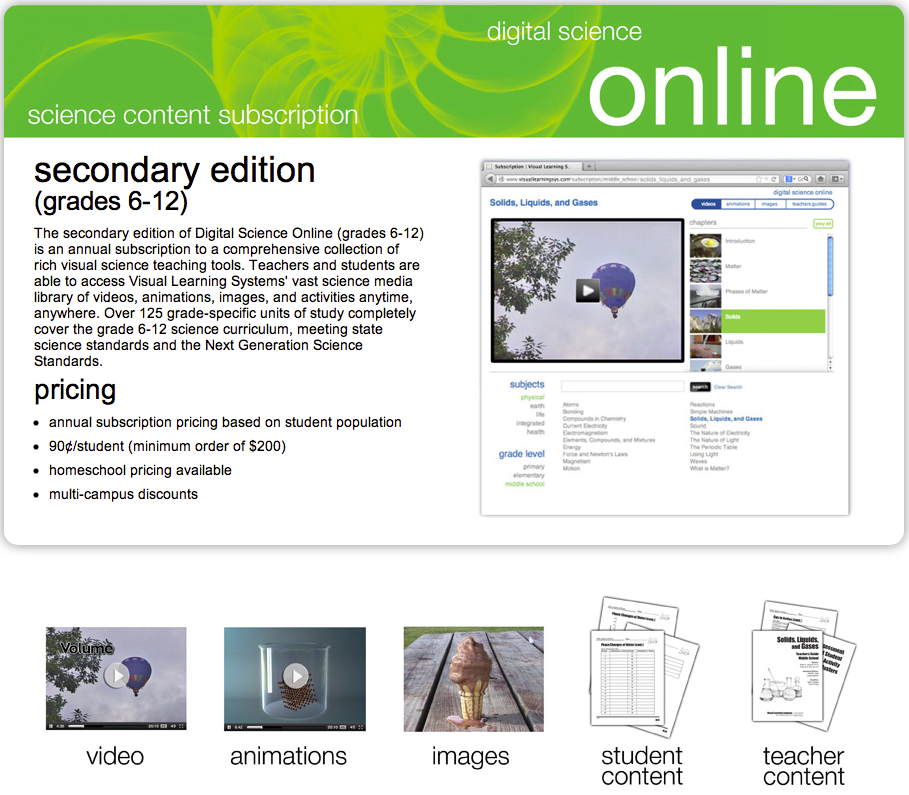 Jonah and I sat together through much of the videos. I had printed out the worksheets for him to work on, and together we learned about
Geology of North America
. I have to admit, listening to the narrator talk about the mountains forming millions of years ago made my skin crawl. I believe more along the lines of what most Creationists believe. However, there is still a ton more meat to chewed on. So, I decided to allow Jonah to continue with the lessons. His current Science is not enough for us, so he will finish out using the this curriculum instead. I can live with what is being taught, and I am confident in teaching Jonah to chew on what is being taught and to know the entire truth of what we personally believe.
Jonah is enjoying the work. He does not think it is too hard for his age. He is on the low end of the secondary level. He thinks that the information is just right on each subject that he has checked out independently since we started using Digital Science from Visual Learning Systems. He has checked out, Earth's Changing Surface, Fossils, and Mapping so far.
The video's are great especially when you have to hold a wee little nephew. Sometimes these little guys just interrupt our day. Such a cute interruption too! He is hard to see in the photo, but Jonah is cradling him in his arms while he is watching a video.
I have to admit to you, in honor of full disclosure I did not start this till the other day. I never received the email with my sign-in information. Long story short, while the other reviewers have had ample time, I did not. We have been in and out of the hospitals, and I have either misplaced the email, or I just never got it. No fault of the vendor. As soon as I realized this review was due, TOS and the vendor got me the information quickly. Jonah and I have been sitting in front of the computer working diligently on the project so that I can give you a clear and concise review.
The teacher section is very easy to navigate. It contains most/ if not all of what you need to teach your student. The teacher guide gives you great pointers on how to use their system. There are also additional photo's and where you can download to print off worksheets. I have had ample time to go through the teacher side of things and have a great idea how I want to proceed from here on out. I am excited to work through the Summer with Jonah and and using this curriculum.
All together, Jonah and I give Digital Science from Visual Learning Systems 5 stars.
Check out what the other ladies on the review team love about Visual Learning Systems…..
You can find Visual Learning Systems on their website, Facebook, and Twitter.
Click the banner below to go and visit some of the other reviews from our awesome crew!

Make sure you click the button and read some of the other awesome reviews!