Post may contain a review, sponsored or otherwise. Also, may contain my affiliate links that help me pay for this site. Make sure you  sign up for my mail list so that you can be in the "know"
The Alphabet Song Game, by The Critical Thinking Co. Review

 Jacks and I have started "sool", that would be school to ya'll. Jacks LOVES to do her school and will come up to multiple times and say, I do "sool" Nana, I do "sool" like Unnel(uncle) Bug! So, she hops up on my lap and together we do the The 
Alphabet Song Game
that is put out by
The Critical Thinking Co.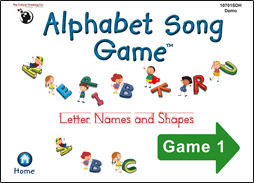 Jacks really looks forward to doing school. I think she feels like a big person. When I get up in the mornings, she sometimes is already on the computer and has started the program. I have a touch screen computer, so it is really easy for her to just work on the program. Right now all she has is the Alphabet Song Game. But that is really all she needs.
The Alphabet Song Game is a game for toddlers that is just really using repetitions. You also could use it up the 1st grade depending on the child's level. I had a child that was delayed a bit in knowing and understanding his letters.  By constantly doing it over and over again, the toddler begins to memorize what the letter is, and
what it looks like. Then, later on it starts to put a series of letters on the screen and the child has to pick out the letter by sight. The letter is called out, and then Jacks uses the touchscreen of my computer to touch the letter. Or she does try and use the mouse-pad.
The program starts out with the uppercase letters, then lowercase letters. They it will mix the cases. In the uppercase letters, there are nine lessons. Identifying the letters in various situations increasing in difficulty as the child progresses in the lessons.
How did she get so smart? She also uses the computer to get on her my YouTube and Netflix accounts. She is TWO, or 2, or really 2.75. But I refuse to think of that.
The Critical Thinking Co. also has several other products that might be of interest to you in Reading, Writing, Math, Science, and Social Studies. So it covers the basic cores from pre-K to Senior year in High School.
You can use the program as the entire curriculum, or as a supplement to another program or workbook you might be using. With the Alphabet Game, I used it as a sole curriculum for Jacks. But then again, she is just 2. I do plan on using it again to just keep the letters and their names in her head as we move on to forming words.
Right now, the Alphabet Song Game is FREE!!! For a limited time! You can also download it to your Ipad, or Android based tablet for free! I did try it for my phone, but it is not available. If it was, we would be all over it. So make sure you go and download it right now! Your child will have a ton of fun as (s)he point out each letter as the teacher says what it is.
Jacks and I give The Critical Thinking Company, and the Alphabet Song Game 5 stars!
You can find The Critical Thinking Company on their website, Facebook, Twitter, Pinterest, and Google+.
Checkout the other reviews about The Critical Thinking from some incredible crew members! The crew got to review and check out several of their programs. So make sure you drop in and read some of their reviews.